CONDENSATORI A FILM IN POLIESTERE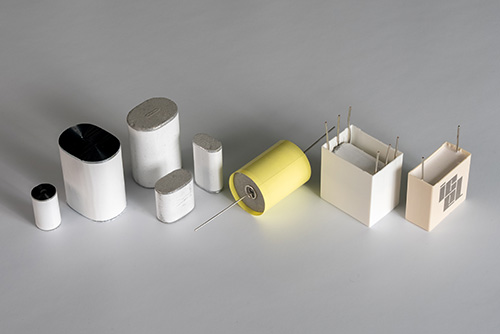 I CONDENSATORI A FILM IN POLIESTERE
Il condensatore a film in poliestere offre un'elevata costante dielettrica che corrisponde ad un'elevata efficienza volumetrica con un'ottima rigidità dielettrica. Ha inoltre ottime proprietà autorigeneranti e consente temperature operative elevate.

CONDENSATORI GENERAL PURPOSE
I condensatori a film in poliestere sono tipicamente destinati ad applicazioni «general purpose» cioè per uso generico. Forniscono la migliore efficienza volumetrica rispetto a tutti i condensatori a film, con costi moderati. L'uso tipico dei condensatori a film in poliestere è rappresentato dalle applicazioni DC, come ad esempio disaccoppiamento, blocco e accoppiamento, bypass, filtraggio, audio e temporizzazione.
CERTIFICAZIONI E QUALITÀ
Tutti i prodotti ICEL rispettano i regolamenti generali REACH, ROHS, CMRT, CRT e TSCA (vai alle dichiarazioni)

SPECIFICHE TECNICHE, GENERAL TECHNICAL INFORMATION E CONDIZIONI DI VENDITA
ATTENZIONE: Per tutta la nostra gamma di prodotti, le specifiche tecniche devono essere completate con i dati riportati nel capitolo «General Technical Information» e con il documento «General Conditions and Terms of Sale», che ne costituiscono parte integrante.

SERIE OBSOLETE – NON PER NUOVI PROGETTI
I documenti di riferimento delle serie obsolete /non per nuovi progetti, sono disponibili qui «Serie Obsolete».

Tutti i prodotti ICEL sono protetti con materiali autoestinguenti UL RATED, come da specifiche corrispondenti (materiali approvati). La serie MAB è anche approvata «UL-810 CONSTRUCTION ONLY» (approvazione di prodotto).
General Technical Information (AGGIORNAMENTO 10/2021)
TUTTO IL TEAM ICEL È A VOSTRA DISPOSIZIONE H24
Contattateci scrivendo o telefonando