POLYESTER FILM CAPACITORS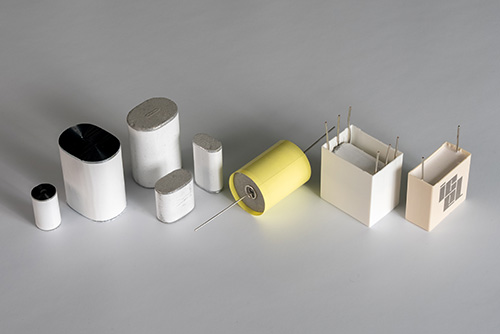 POLYESTER FILM CAPACITORS
Polyester film capacitors offer a high dielectric constant, which means high volume efficiency and dialectric strength. They also provide excellent self-healing properties and allow high operating temperatures.
GENERAL PURPOSE CAPACITORS
Polyester film capacitors are typically intended for general purpose applications. They provide the best volume efficiency of all film capacitors at moderate cost. The typical use of polyester film capacitors is in DC applications, such as decoupling, blocking and coupling, bypassing, filtering, audio (noise suppression) and timing.
CERTIFICATIONS AND QUALITY
Tutti i prodotti ICEL rispettano i regolamenti generali REACH, ROHS, CMRT, CRT e TSCA (see declarations)

TECHNICAL SPECIFICATIONS, GENERAL TECHNICAL INFORMATION AND CONDITIONS OF SALE
IMPORTANT: With reference to our entire range of products, technical specifications must be completed with the data shown in our «General Technical Information» and «General Conditions and Terms of Sale» documents, which form an integral part of such specifications.

EXPIRED – NOT FOR NEW DESIGN
Reference documents for Expired (series)/Not for New Design are available here «Expired».

All ICEL products are protected by UL RATED self-extinguishing materials, as per relevant specifications (approved materials). The MAB series of products is also «UL-810 CONSTRUCTION ONLY» approved (product approval).
General Technical Information (UPDATED 10/2021)
A TEAM AT YOUR DISPOSAL
For any need, do not hesitate to contact us